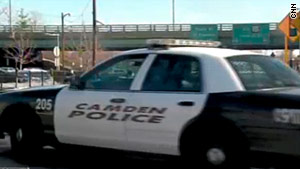 Camden NJ police are investigating the robbery of a taxi driver in February.
According to officials, the robbery occurred sometime after midnight in the area of Mount Ephraim Avenue and Kaighns Avenue in Camden, New Jersey.
When a taxi pulled up to the corner, four people exited the vehicle. At that moment, one of the passengers allegedly attacked the taxi driver.
Additionally, another passenger allegedly stole the driver's cell phone.
Afterwards, the four suspects reportedly ran away and fled the scene on foot.
During a subsequent investigation of the incident, Camden County police obtained surveillance camera video footage. The footage reportedly shows the suspects exiting the Loews movie theater in Cherry Hill, NJ. The taxi picked up the suspects at the theater and drove them to Camden.
Police have released descriptions of the suspects in the case. Three of the suspects are described as black males between the ages of 15 and 17. They were all wearing dark clothing, with one of them wearing a red hooded sweatshirt underneath his black jacket. The fourth suspect is described as a young female. She was reportedly wearing a dark jacket, bright orange pants, and boots.
If the suspects are eventually identified and apprehended, they would like face serious criminal charges for robbery and aggravated assault. Depending upon their exact ages, they could also be charged as juvenile offenders.
The Camden County Police Department is asking for the public's assistance in identifying the suspect. Anyone with information about the alleged robbery is asked to call the police department's anonymous tip line at 856-757-7042.
For further information about this case, read the NJ.com article entitled "Watch: Camden Police Seek Four in Taxi Driver Robbery; Release Video from Movie Theater."